About the Authors
Assaf Naor
Professor
Courant Institute of Mathematical Sciences, New York University, New York, NY
naor[ta]cims[td]nyu[td]edu
www.cims.nyu.edu/~naor/
Assaf Naor
's research focuses on analysis and metric geometry, and their interactions with approximation algorithms and complexity theory. He received his Ph.D. from the
Hebrew University
in 2002, advised by Joram Lindenstrauss. He is a Professor of Mathematics and Computer Science at the
Courant Institute of Mathematical Sciences
of New York University, where he has been a faculty member since 2006. Prior to joining the Courant Institute he was a researcher at the Theory Group of Microsoft Research in Redmond WA. Starting fall 2014 he will be a Professor of Mathematics at
Princeton University
.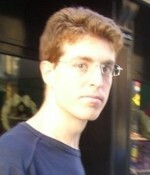 Oded Regev
Professor
Courant Institute of Mathematical Sciences, New York University, New York, NY
regev[ta]cims[td]nyu[td]edu
www.cims.nyu.edu/~regev/
Oded Regev
graduated from
Tel Aviv University
in 2001 under the supervision of
Yossi Azar
. He spent two years as a postdoc at the
Institute for Advanced Study
, Princeton, and one year at the
University of California, Berkeley
. He recently joined the Courant Institute of Mathematical Sciences and is still trying to get used to life in NYC. His research interests include computational aspects of lattices, quantum computation, and other topics in theoretical computer science.
Thomas Vidick
Assistant Professor
California Institute of Technology, Pasadena, CA
vidick[ta]cms[td]caltech[td]edu
cms.caltech.edu/~vidick
Thomas Vidick
graduated from
UC Berkeley
in 2011; his advisor was
Umesh Vazirani
. His thesis focused on the study of quantum entanglement in multi-prover interactive proof systems and in quantum cryptography. After a postdoctoral scholarship at
MIT
under the supervision of
Scott Aaronson
, he moved back to sunny California. He is currently an assistant professor in
Caltech
's department of
Computing and Mathematical Sciences
, where his research is stimulated by the humbling mark left by the previous occupants of his his office and his neighbors' —
Alexei Kitaev
and
Richard Feynman
.